We are proud to announce that we now also produce and sell pre forms. We pride ourselves in manufacturing world class pre forms. Our pre forms are all 28mm PCO 1810. Our blown bottles come in 500ml, 750ml, 1.5lt and 5lt blue or natural.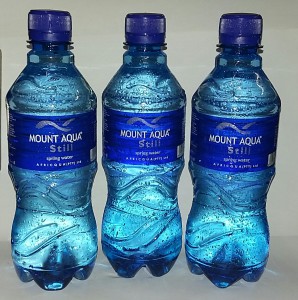 Africqua / Mount Aqua is bottled at source, filtered to 0.2 micron, and brought to you as nature intended. Pure and Clean with a natural infusion of essential minerals and an alkaline pH averaging 7.8 – imparted by an underlying geology of Quartz, Shale, Chert and Dolomite
The water is treated with Ozone for quality assurance.
Regular testing is done on the water as well as the production facility by Swift Laboratories. This is to ensure that the pristine quality of water and source have remained in tacked and untouched. As part of testing the production facility Swift test all aspects including air and surface swabs thus ensuring stringent hygiene protocols are kept to at all times.
AFRICQUA / MOUNT AQUA Spring Water is bottled in PET plastic bottles and packaged in cardboard boxes.
The water is available in the following sizes and variants:
330ml (24 bottles per box) available in still and sparkling
500ml (24 bottles per box) available in still, sparkling and flavoured
1.5 liter (12 per box) available in still
750ml sport (24 per box) available in still
5 Liter- (4 per box) available in still
The Mount Aqua Spring Water Label contains the following information:
Product name and logo
Description (Still, Sparkling, Flavored)
Volume (330ml, 500ml, 750 ml, 1.5lt, 5lt)
Product write up (From the heart of the Magaliesberg Mountain Range cascades this natural life-giving source of natural mineral water. The Magaliesberg mountain range is the oldest in Africa, adding to the pure quality of this product. BOTTLED AT THE FOOT OF THE MOUNTAIN)
Postal address and contact details of the source
Statement of  ozonation and filtration
Bottled at source and typical mineral composition
Barcode (registered with the CGCSA)